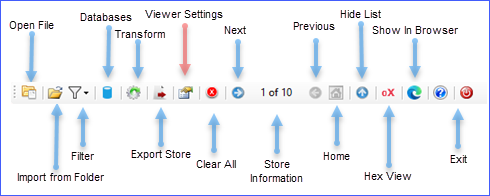 The Main Window Toolbar
Use the Toolbar in the Main Window to bring up the HL7 Viewer Settings window.
CORE HL7 Viewer Settings
The Viewer Settings is broken up into 4 sections.
Section 1
In Section 1 you can customize the HTML Viewport in the Main Window by choosing the Font Size and Light Theme or Dark Theme.
Main Window Dark Theme
---
Section 2
In Section 2 you can clear or remove individual files from your Recent Files List. Also in Section 2 there is a feature that we think you will appreciate, the Highlighted Fields List. You can click the
to add or the
to remove fields here and see them highlighted in the Viewport of the Main Window. To make sure that customers see this there are 2 fields already selected when you install the software, MSH.10 (MSH segment field #10 the Message Control ID) and PID.5 (PID segment field #5 the Patient Name).
---
Section 3
For many customers Section 3 will be very welcome. It will list all of the different CORE HL7 Definitions installed for your viewer. You can just click the version you want and click OK to change. This section is also the front end to the CORE HL7 Definition Management sub-section for curating HL7 Definitions outlined in Working with HL7 Definitions.
---
Section 4
In Section 4 you can change the Message Envelope Settings which includes the BOM, EOM, and SOM characters which are displayed in Hexadecimal. To change a value click the
button next to each one.
One important thing to know: Every CORE HL7 Definition also contains a Properties section which includes a Message Envelope. In the CORE HL7 Viewer we maintain these values on this screen in the Viewer Settings and they are GLOBAL. IE these settings are applied dynamically to each HL7 Definition when you choose it for use.
---
Your Next Steps:
•Learn About CORE HL7 Definitions and how we use them
•See Getting Started to play with sample data
•Learn about Importing and Exporting HL7 messages
•See Working with HL7 Databases